The truth about the male menopause – Dr Doug Savage – BBC1
The programme, The Truth About the Menopause, presented by Mariella Frostrup, looks not only at women's experience of menopause but also the concept of a 'male menopause', a term commonly used to describe the impact of age-related hormonal changes in men.
As one of the UK's leading men's health clinics, we were approached by the BBC to provide an expert view on why men as well as women might find themselves in need of hormone replacement therapy as they age.
In the programme, Dr Doug Savage from the Centre for Men's Health explains that many UK men struggle to get treatment in such cases despite the significant potential health and quality of life benefits of this treatment for them and their partners:
"Most doctors don't take it too seriously and this is completely incorrect. I have been listening to patients' stories for 30 years and the majority do so well in every way but most patients are not getting this treatment. I think it is very sad".
Is there a male menopause?
Dr Savage explains in the programme that although 'male menopause' isn't a medically recognised term, it can be helpful as an easy to understand analogy to the female menopause, describing the health consequences of an age-related drop in testosterone in men. It is often used in the media as shorthand for this situation.
Men do not universally suffer from a directly equivalent change of life to women. However, men's hormone levels and balance do go through changes as they age, particularly if they fall into ill health. In particular the free or bio-availlable level of testosterone may fall due to an increase in another hormone called SHBG. This can lead to a low testosterone state with a serious and debilitating effect on a man's health, quality of life and intimate relationships, similar to the impact of menopause in women.
If you would like to know more, we have a page covering the male menopause in more detail.
Testosterone deficiency
Testosterone deficiency is the better general medical term for low testosterone. This covers the range of possible causes, including those linked to ageing. You may also come across a wide range of other terms, including andropause, low t and hypogonadism. All these refer to the health effects resulting from low total or active levels of testosterone.
The usual treatment for this condition is testosterone replacement therapy (TRT). The Centre for Men's Health specialises in the provision of testosterone replacement therapy and ED treatment to help men in this situation.
The programme also includes an interview with one of the Centre's patients, Dr Dan Hegarty, whose story is covered in the Patient Stories section of our website. He explains why, in his early forties, he sought treatment at the Centre for Men's Health:
"Primarily I had a great loss of energy, I felt very tired. I noticed my concentration wasn't as good as it used to be before. The other thing is I had a lot of muscle aches and that's why I sought out the Centre for Men's Health".
He believes his TRT treatment at the clinic helped transform his life.
Chat now to see how we can help
How would I know if I or my partner have testosterone deficiency?
If you or your partner are struggling with any or all of the following the cause may be testosterone deficiency:
decreased sex drive (libido),
erectile dysfunction (ED),
loss of energy/excessive tiredness,
low mood,
night sweats or hot flushes,
concentration difficulties and/or
increased irritability.
A good starting point is to take the quick questionnaire test on our website to see if the symptoms suggest that testosterone deficiency may be present. If the questionnaire comes out with a significantly raised score it would be worth discussing this with a doctor. Many of our patients and their partners have told us that completing the test and getting their score was the lightbulb moment for them in understanding what might be causing the symptoms they were suffering from.
However, careful expert medical assessment of your symptoms, alongside blood test results and other key information is required before any diagnosis can be made.
How is testosterone deficiency treated?
The most common method of treatment for testosterone deficiency is testosterone replacement therapy (TRT), usually in the form of gels or injections. At the Centre for Men's Health, we have spent over 25 years developing a successful diagnosis and treatment model for our testosterone replacement therapy (TRT) and ED patients, making the Centre one of the longest established UK healthcare providers in the field.
Our regular clinics in London (Harley Street) and Manchester (St John Street) provide a swift, effective, confidential solution for men struggling with these conditions. We make sure our patients have the time they need to fully discuss the health problems they are facing and to work with our doctors to find the right treatment solution.
His and hers hormonal healthcare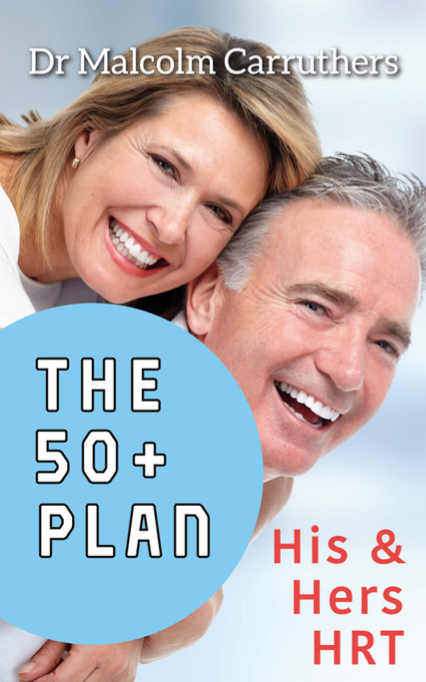 At the Centre we recognise that the best care for men with testosterone deficiency takes a holistic approach and takes into account the needs of their partners and any couple relationship. There is increasing recognition that a joined-up approach to care for couples provides the best health outcomes in such cases. Based on this the Centre has established links to a wider team of expert practitioner partners who can provide additional support on other areas such as diet and nutrition, psychosexual therapy and hormone replacement therapy (HRT) for women. This enables us to connect patients with a wider package of care.
Our founder Professor Malcolm Carruthers, having written extensively on men's health and TRT has now also developed a guide to ageing for the over fifties. The 50+ Plan: His & Hers HRT covers the health benefits of starting on hormone treatment around the age of fifty, in order to promote health and well-being throughout the second half of life, for both women and men.